Last two Years board result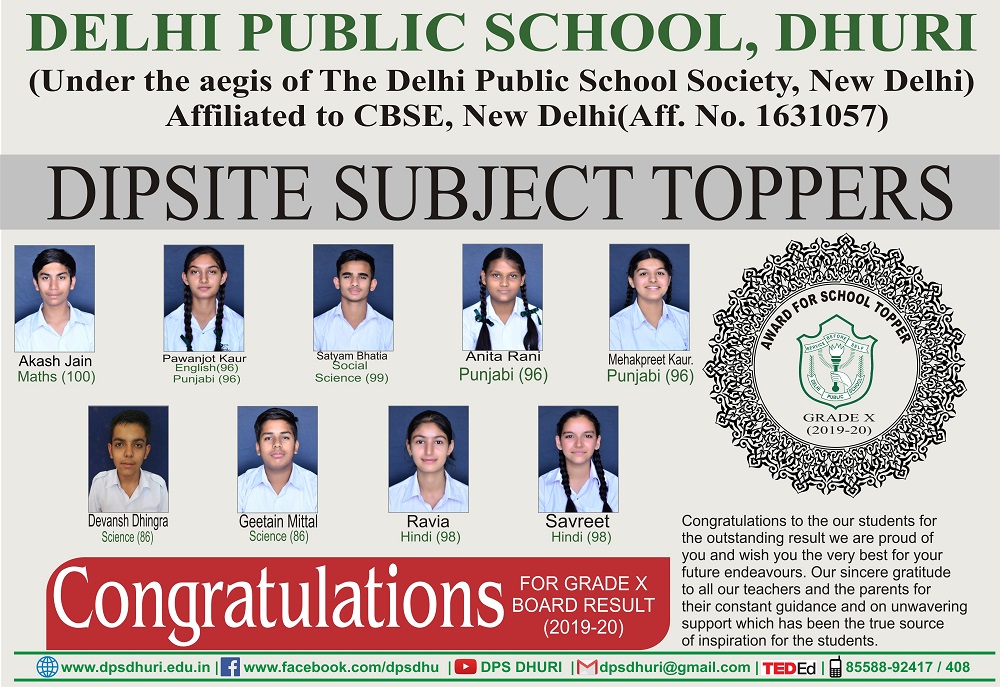 Achievements: Dipsites who bagged first position in Inter School singing competition
Feeling proud to share the achievement of melodious Dipsites who bagged first position in Inter School singing competition. The competition was organized by Guru Nanak Convent school, Bhawanigarh under Hubs of Learning (CBSE).
Achievements: Won the Gold in zonal level boxing competition
Another feather in the cap- Sporty Dipsites; Jasmine of Grade 7, Manseerat of Grade 8, Ruhanreet and Savreet of Grade 10 won the Gold in zonal level boxing competition in their respective weight categories. Kudos to the coach, sports department and the boxers for their hard work and dedication.
Dancing Dipsites: Delighted to share yet another glory bagging the prestigious 'Judges' Acclaim Award' in the Nrityanjali- Inter DPS Dance festival.
Artistic Dipsites: Beautiful creations of Pranjal Aggarwal and Savreet Kaur being showcased in Robinage Magazine.
Feeling proud to share the achievement of Dipsite Pranjal Aggarwal of Grade 9, for securing 1st position at Zonal level in National Science Olympiad organised by Science Olympiad Foundation. She has been rewarded with a Certificate, Gold Medal and a Cheque of Rs. 5000
Flow 3 Rs to cut warming
Way to gender justice
Principle Harneet Singh Says
Empower the rural women
Poem by Dipsite Shruti Bansal published in The Tribune dated: 18 Feb 2019
Feeling proud to share the article of Dipsite Kush Garg of grade IX , published in The Tribune
For more than 6 decades DPS society has developed with a sprit and a vision. Today it stands as a citadel of learning and harbinger of quality consciousness, committed to developing the minds and initiatives of children. The vitality of the classrooms, the energy of the playing fields and the open friendliness of the work environment, have enabled DPS students to reach their fullest potential- wherein securing distinctions in the board examination or winning national/international accolades in drama , debates or sports. Outstanding board results and securing enviable positions in the entrance tests to various professional colleges and institutes of international repute are the accepted identify of a DPS School.
Innovation is a fundamental to DPS learning programs and its faculty has endeavored to revolutionized in terms of ideas and practices, to match the demands of 21st century educational trends and global associations. The primary focus is on meaningful and joyful learning. Academia from the country and abroad, meets to exchange and partake of diverse cultural and intellectual experiences.
Education programs evolve from the felt needs, incorporating contextual issues and challenges. Activities and events related to value education, environment, health education, games and sports, visual and performing arts, culture and heritage, international experience sharing, personality development etc. are effectively woven into the main fabric of school curriculum.